Events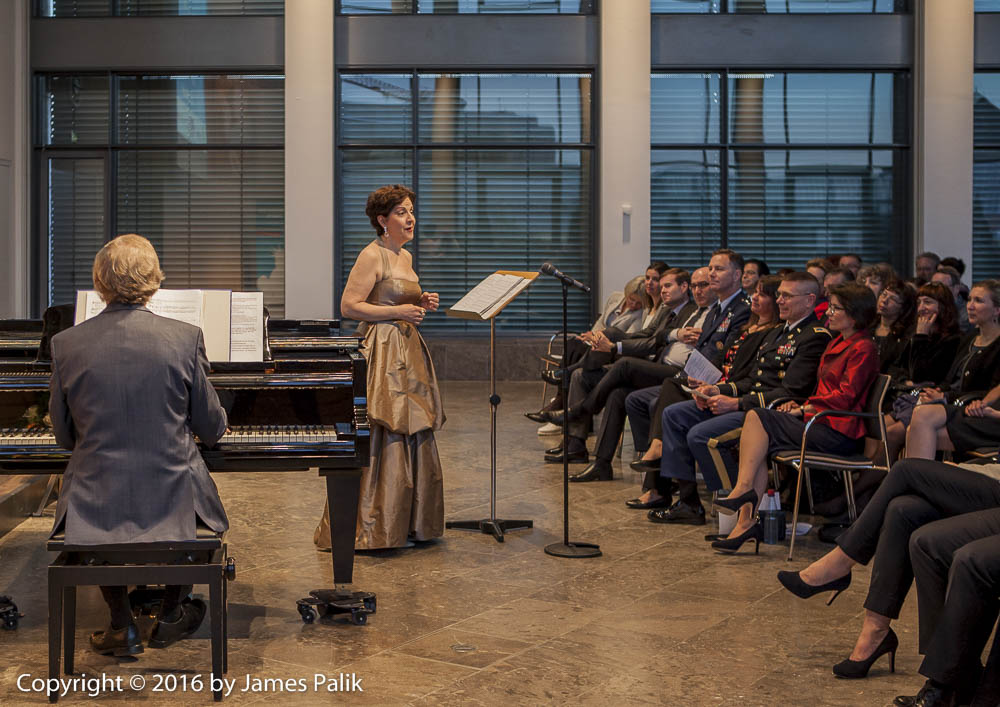 James Palik
Di/Tue 16.10.
American Days Celebration 2016
Beyond Opera! American Mezzo-soprano Helene Schneiderman Meets the American Days. Afterwards: Funky Beats mit DJ Andreas Vogel & German Drinks & American Snacks
Konzert / Concert
Beginn 19.30 Uhr . Einlass 00.00 Uhr / Begin 7.30 pm . Doors Open 7.00 pm
Rathaus Stuttgart . Marktplatz 1 . Stuttgart 70173
Es sind die siebten American Days und weil das eine ganz besondere Zahl ist, präsentiert das Deutsch-Amerikanische Zentrum an dieser Festivalfeier die weltbekannte US-amerikanische Mezzosopranistin Helene Schneiderman mit einem Programm von Oper bis Musical, das sie eigens für den Abend zusammengestellt hat. Am Flügel begleitet wird sie von ihrem Landsmann William Girard, der sich ebenso wie Helene Schneiderman durchaus nicht nur im streng-klassischen Genre sehr wohl fühlt. Die charmante Mezzosopranistin, die seit langem im Schwäbischen verbandelt ist, wird es sich nicht nehmen lassen, über den Gesang hinaus den Abend deutsch-schwäbisch-American zu moderieren und sicherlich die eine oder andere kurzweilige Story aus ihrer beeindruckenden Karriere zu erzählen. Doch der Abend ist an dieser Stelle noch nicht beendet, denn musikalisch geht es nach einer Stärkung bei German Drinks und American Snacks in der Wandelhalle des Rathauses weiter. Der Stuttgarter Schallplattenaufleger Andreas Vogel sorgt mit Funk and Soul für den richtigen Groove, um den Abend tanzend ausklingen zu lassen. Come on, let's celebrate!
These are the seventh American Days and because this is a very special number, the German-American Center is presenting the world-famous US mezzo-soprano Helene Schneiderman at this festival celebration with a program from opera to musical, which she put together especially for the evening. She is accompanied on the piano by her compatriot William Girard, who, like Helene Schneiderman, does not just feel at home in the strictly classical genre. The charming mezzo-soprano, who has been working in Swabia for a long time, will be delighted to be able to present the evening German-Swabian-American beyond the vocals and to tell some entertaining stories from her impressive career. But the evening is not yet over here, because musically it continues after a refreshment with German drinks and American snacks in the Wandelhalle of the town hall. The Stuttgart record trailer Andreas Vogel provides the right groove with Funk and Soul to make the evening dance to a close. Come on, let's celebrate!
Mehrtägige Veranstaltung / Multi-day event 16.10. bis 17.10.
Sprache / Language zweisprachig / bilingual
Moderation x
Lesung / Reading x
Rezitation / Recitation x
Leitung / Run by x
Kursleitung / Course Facilitator x
Dozent/in / Lecturer x
Referent/in / Speaker x
Einführung / Introduction by x
Künstler/in / Artist Helene Schneiderman
Musiker/in / Musician William Girard
Sänger/in / Singer x
Begleitung / Accompanied by x
Uhrzeit / Time 19.30 – 00.00 Uhr / 7.30 pm – 0.00 pm
Öffnungszeiten / Opening Hours 00.00 – 00.00 Uhr / 0.00 am – 0.00 pm
Eintritt frei / Free Admission
Eintritt / Entry Fee 00.00 Euro
Ermäßigt / Reduced 00.00 Euro
VVK / Advanced Ticket Sales 17.70 / 15.50 Euro
Vorverkaufsstelle / Advanced Ticket Sales via reservix.de / x@x.de
AK / Admission at the Box Office 20.00 / 17.00 Euro
Anmeldung bis TT.MM unter x oder x@x.de / Registration by TT.MM via x or x@x.de
Veranstalter / Organizer Deutsch-Amerikanisches Zentrum / James-F.-Byrnes-Institut e.V. (DAZ), x, daz.org, xx@x.de, Tel x, Fax x
Kooperationspartner / In Cooperation with Land Baden-Württemberg; Landeshauptstadt Stuttgart; US-Generalkonsulat Frankfurt / M.; Robert Bosch Stiftung , x, daz.org, xx@x.de, Tel x, Fax x